Play the piccolo? Love the oboe? There's a place for you in a St.Louis community band.
Colleen Schrappen
Jul 5, 2023
UNIVERSITY CITY — Dozens of musicians gathered on a recent Tuesday to ramble through marches, medleys and folk tunes, undaunted by neighboring softball players and jungle-gym adventurers.
The saxophones howled in Heman Park as a phalanx of flutes warbled alongside. Tubas announced their presence in bellows, and the snare drums? They snared.
"It's unlike anything else, this atmosphere," said Frank Chross of University City, lounging in his lawn chair with about 150 others for the first University City Summer Band concert of the season.
Community bands — from Arnold to Affton and Edwardsville to Kirkwood — perform for all comers. After the pandemic muted live music for a couple of years, fans have flocked back. Attendance is free; coolers, dogs and barefoot children are welcome. Musicians mingle with the crowd at intermission. The set lists reach back to John Philip Sousa and forward through the Beatles and onto "The Avengers."
"There's something about live music," said Danny Lewis, a trumpeter who took over as director of the U. City Summer Band this year. "It's a magical thing."
The magic of communal creation is not limited to public productions. At weekly rehearsals, teachers learn alongside their former students. Retirees connect with 20-somethings. They laugh off flubbed notes, cheer their successes and unwind from their real lives.
"We have all different ages and all different interests, but when we go out there, we have one goal: to sound as good as we can," said Art LaVelle of Granite City.
The camaraderie keeps the 84-year-old returning to the Edwardsville Municipal Band summer after summer and seven decades after he first picked up a saxophone as a middle schooler. After rehearsals, he likes to make Imo's runs with his fellow brass virtuosos.
Edwardsville's 60-member band, which dates to 1886, performs on Thursday evenings at City Park. The musicians sweat their way through setup, rolling out the xylophones and marimbas, unpacking the oboes and euphoniums. They clamp down their sheet music with clothespins in a longshot hope that there will be a cooling breeze.
Once the concert starts, amid the effervescent tunes, the humidity seems to dissipate. The players have a purpose.
"We're here for the audience," said percussionist Steve Wehling of Edwardsville, a member since the 1970s. "There is a fan base. They keep coming back."
'An outlet to play'
Other groups have not yet fully rebounded from the pandemic. The Affton Community Band, with 40 musicians, is about two-thirds as big as it was a few years ago. It's holding one show this summer, on July 14, down from its usual two or three. The band, directed by Dave Eding, formed about 30 years ago as a way for former Affton High School students to "keep their chops in shape," Eding said. Now, Affton pulls players from all over. Eding recruited his friend, Dave Butler, to join the clarinet section after Butler retired as band teacher at Fox High School in Jefferson County.
Butler also directs the Arnold Community Band, which he founded in 1980 to keep in contact with his students after they graduated. Even today, a core group of old Fox Warriors shores up the spring and fall performances.
At least one band in the St. Louis area, the Compton Heights Concert Band, didn't survive the spring 2020 shutdown. Harry Swanger cobbled the group together in 1976 after lodging a facetious complaint that a neighborhood Easter parade was led by a man carrying a boombox. When Swanger, an attorney, was challenged to do better, he dusted off his bassoon and called around the block, recruiting about a dozen people. Eventually, the band ballooned to 60, including Swanger's three grown daughters and a bull moose mascot named Moosic.
"People wanted an outlet to play," said Kitty Swanger, Harry's wife. "At that time, there weren't as many groups as there are today."
Compton Heights performed for 45 years — in the summer at Tower Grove Park and Francis Park, plus a holiday appearance at Powell Hall. Harry Swanger died in December at age 84, but band members still get together, Kitty Swanger said, and some alums have been talking about a revival.
'Danny Boy' to 'Hakuna Matata'
Community bands date to the Revolutionary War and peaked at the turn of the 20th century, when Sousa and other prolific composers were touring the country.
Today, according to the Association of Concert Bands, there are more than 1,100 community bands in cities, suburbs and small towns across the United States.
They are among the most democratic of American traditions, accepting willing players from every neighborhood, any age, all ability levels, returners and newbies.
"I'm of the mindset that I want everybody to play," said U. City's Lewis, who teaches band in the Ferguson-Florissant School District. "We'll find a place for you."
Recruiting and retaining younger players can be a challenge. Most band members are closer to Social Security eligibility than to their college days.
The University City Summer Band designates its second concert of the season as Student Night, inviting high school band members from across the region to accompany it. Song selection helps to both engage performers and turn first-time audience members into regulars, said Lewis. "I want there to be music that you've never heard and some that you know," he said. Military marches, Broadway scores and patriotic tunes are constants. But reimagined billboard hits and blockbuster movie soundtracks also get their due. "My 8-year-old will be singing along to 'Hakuna Matata,'" said Lewis, who himself favors "Irish Tune from County Derry," better known as "Danny Boy."
U. City is just a few members shy of its full pre-pandemic roster of about 90. But at the end of every concert, its ranks swell. Lewis invites the kids in the audience to the podium to grab a pencil. A dozen new conductors are born as the band closes out the show with one final march.
As directed, the saxophones howl. Flutes warble. Tubas bellow. And the snare drums? They snare.
~~~~~~~~~~~~~~~~~~~~~~~~~~~~~~~~~~~~~
Thomas Poshak (UCity Summer Band Director 2003 to 2022) received his Bachelor of Music and Master of Music degrees from the University of Michigan. He retired in 2001 after a 30 year career as a high school band director. Mr. Poshak taught in the US Virgin Islands, in Ladue, Missouri and was the Band Director and Music Coordinator for the Kirkwood School District from 1985 until 2001. Under his direction the Ladue Symphonic Band performed at the MMEA convention in 1982, and the Kirkwood Symphonic Band received Honor I ratings at MSHSAA Festivals for twelve consecutive years and Gold Ratings at music festivals in Atlanta, Chicago and Nashville. He has held offices in the Missouri Music Educator's Association, Phi Beta Mu and the St. Louis Suburban Music Educator's Association and is a member of the Music Educators National Conference, Missouri Bandmaster's Association and Phi Mu Alpha. In 2001 he received the Music Educator of the Year award from the SLSMEA and in 2004 received the Hall of Fame Award. He also is the Music Director of the St. Louis Wind Symphony.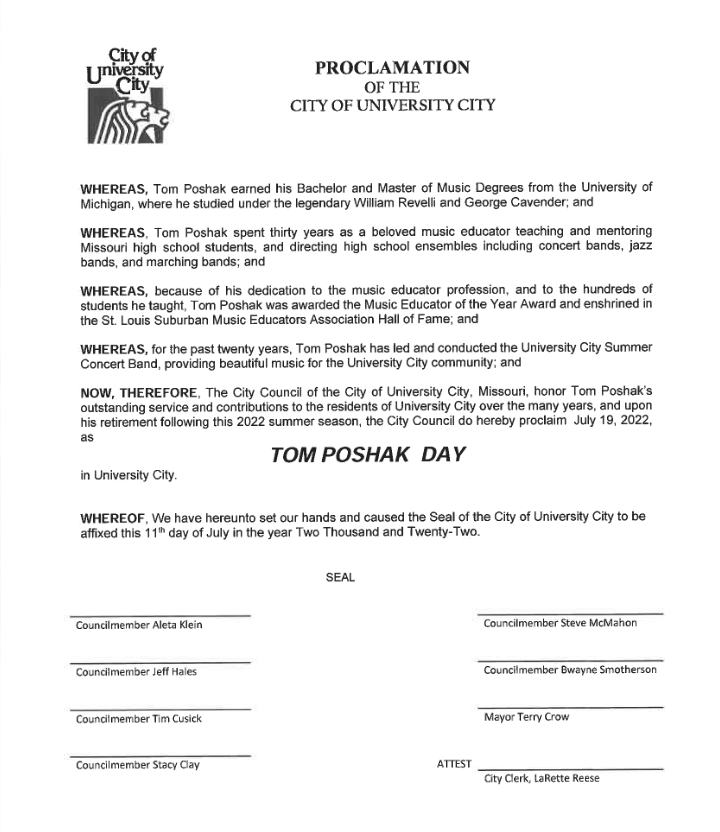 _________________________________________________________________________________________________________________________________________________________________________________
Mr. Andre L. Maclin, July 23, 1940 ~ January 24, 2022 (age 81)
Andre was an original member of the UCity Summer Band and in his 20+ years as a member he never missed a rehearsal or a concert. He was a talented and very dedicated member of the band. We have missed him since he moved away and now the band in heaven has a new drum set player - and a good one. Rest in peace dear friend. Andre L. Maclin
---
Charles "Chuck" H. Lockyear II passed away April 13, 2020 at age 76.
He is survived by his loving and steadfast partner, Dorothea "Dottie" Jones, children, Charles "Chip" Lockyear, Emily (Rich) Collop, John (Jennifer) Lockyear and four grandchildren.
Chuck will be remembered for his life as a Christian, educator, healthcare administrator, civic volunteer, avid boater and musician. His big personality and generous heart will be greatly missed by all who knew him.
In lieu of flowers, contributions would be appreciated to Chuck's long-time passion, the University City Summer Band. DONATE button at top right of page.
Chuck was a long time member of the UCity Summer Band. He was our cheerleader and friend. He made sure we were all well hydrated and he entertained the children in the audience. Chuck made sure that each child receive a Conducting Pencil and was invited to the front to conduct the band. He will be missed.
---
The University City Summer Band was featured on KSDK (2010).
What All-Star Game? Life goes on for some St. Louisans
By Cordell Whitlock
KSDK -- Baseball did not stop the Clayton Board of Alderman from voting on a smoking ban Tuesday night while the All-Star Game was getting under way at Busch Stadium. Mayor Linda Goldstein says city government trumps athletics.

"I know it's hard to believe and my husband doesn't agree, but sometimes it does," Goldstein said.

It was obviously not a typical summer night Tuesday in St. Louis. Many parks and playgrounds were empty and some outdoor dining spots had thin crowds. But it was business as usual in the University City Loop where the UCity Summer Band Series went on as planned.

Lifelong baseball fan Mary Racen had a choice between baseball and music. Racen choose the latter.

"I don't know what it is but I have to hear this music when I can. It's wonderful," she said.

When the concert was over, Racen, as any true Cardinals fan would, rushed home to watch the game on television.