Thomas Poshak (UCity Summer Band Director 2003 to 2022) received his Bachelor of Music and Master of Music degrees from the University of Michigan. He retired in 2001 after a 30 year career as a high school band director. Mr. Poshak taught in the US Virgin Islands, in Ladue, Missouri and was the Band Director and Music Coordinator for the Kirkwood School District from 1985 until 2001. Under his direction the Ladue Symphonic Band performed at the MMEA convention in 1982, and the Kirkwood Symphonic Band received Honor I ratings at MSHSAA Festivals for twelve consecutive years and Gold Ratings at music festivals in Atlanta, Chicago and Nashville. He has held offices in the Missouri Music Educator's Association, Phi Beta Mu and the St. Louis Suburban Music Educator's Association and is a member of the Music Educators National Conference, Missouri Bandmaster's Association and Phi Mu Alpha. In 2001 he received the Music Educator of the Year award from the SLSMEA and in 2004 received the Hall of Fame Award. He also is the Music Director of the St. Louis Wind Symphony.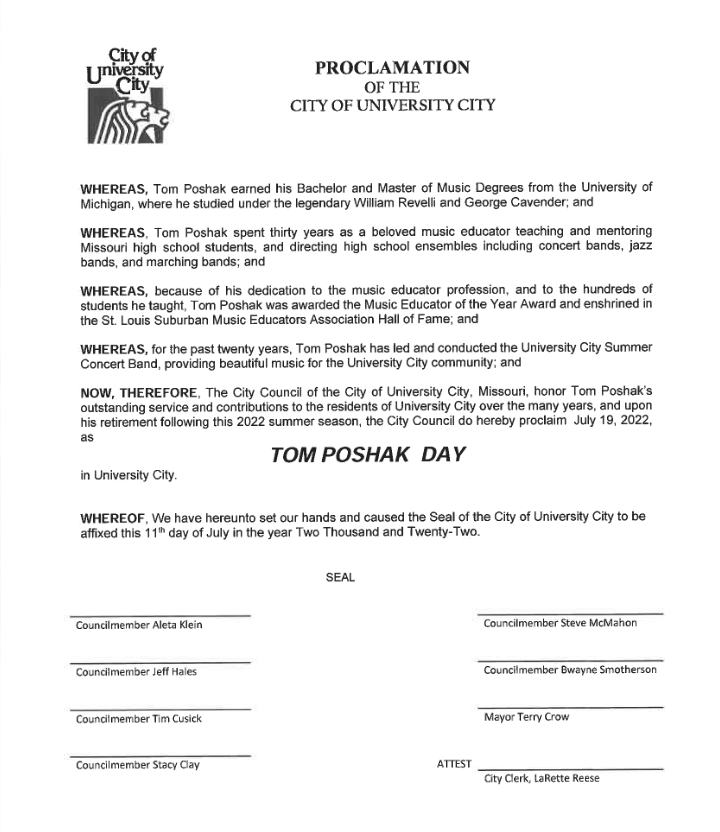 _________________________________________________________________________________________________________________________________________________________________________________
Mr. Andre L. Maclin, July 23, 1940 ~ January 24, 2022 (age 81)
Andre was an original member of the UCity Summer Band and in his 20+ years as a member he never missed a rehearsal or a concert. He was a talented and very dedicated member of the band. We have missed him since he moved away and now the band in heaven has a new drum set player - and a good one. Rest in peace dear friend. Andre L. Maclin
---
Charles "Chuck" H. Lockyear II passed away April 13, 2020 at age 76.
He is survived by his loving and steadfast partner, Dorothea "Dottie" Jones, children, Charles "Chip" Lockyear, Emily (Rich) Collop, John (Jennifer) Lockyear and four grandchildren.
Chuck will be remembered for his life as a Christian, educator, healthcare administrator, civic volunteer, avid boater and musician. His big personality and generous heart will be greatly missed by all who knew him.
In lieu of flowers, contributions would be appreciated to Chuck's long-time passion, the University City Summer Band. DONATE button at top right of page.
Chuck was a long time member of the UCity Summer Band. He was our cheerleader and friend. He made sure we were all well hydrated and he entertained the children in the audience. Chuck made sure that each child receive a Conducting Pencil and was invited to the front to conduct the band. He will be missed.
---
The University City Summer Band was featured on KSDK (2010).
What All-Star Game? Life goes on for some St. Louisans
By Cordell Whitlock
KSDK -- Baseball did not stop the Clayton Board of Alderman from voting on a smoking ban Tuesday night while the All-Star Game was getting under way at Busch Stadium. Mayor Linda Goldstein says city government trumps athletics.

"I know it's hard to believe and my husband doesn't agree, but sometimes it does," Goldstein said.

It was obviously not a typical summer night Tuesday in St. Louis. Many parks and playgrounds were empty and some outdoor dining spots had thin crowds. But it was business as usual in the University City Loop where the UCity Summer Band Series went on as planned.

Lifelong baseball fan Mary Racen had a choice between baseball and music. Racen choose the latter.

"I don't know what it is but I have to hear this music when I can. It's wonderful," she said.

When the concert was over, Racen, as any true Cardinals fan would, rushed home to watch the game on television.